iOS/iPhone Game Development Company in India
Top Ranking iPhone Game Development Services Provider
iPhone Application Development India (IADI) is an industry leader with an accomplished track record of providing top iOS/iPhone Game development services for customers worldwide since 2009. Powered by our extensive experienced team of iPhone game developers, we have been developing cutting edge iPhone games that has helped our apps stay on top of the iTunes charts.

We build highly addictive iPhone games – Puzzle Games, Educational Games, Action Games, Adventure games and Arcade games that have managed to stay ahead of competition cutting across Androids, Windows Phones and BlackBerry applications. Clients we are serving to build this cutting edge application find our iPhone game apps a great revenue tool, as there is a huge demand for iPhone games.
How to go about building iPhone Game Apps that Sell
Firstly, you need to decide if you want to want to go for the freemium model or paid model. In case you decide to develop a free-to-play game, you can generate revenue through ads and in-app purchases. And considering the popularity of any good, high quality graphic game with superb gameplay the ROI is always high.

At the same time the concept of paid game apps is dying. Even though big game studios are able to afford it, most of them seem to part ways from that monetization pathway. Thereby, the focus is now centered upon providing a great user experience for huge in-app-purchase that can help you make big money.

However, you need to invest in app marketing too so as to improve the recognition and visibility of your iPhone game app. You may contact us to hire IADI who have proven experience in creating mesmerizing visuals, realistic game environment, along with sound effects.
Why choose IADI's iOS Game Development Services?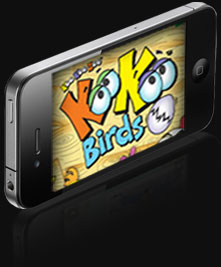 We create innovative game design
State of the art games
Versatile and challenging game environments
Extraordinary graphics and gameplay
Adhere to the industry standards
Multiple choices in backgrounds and layout
Best user interface (UI) design
Rich Audio/Video experience
Distinct quality game application
Build custom games as per your requirement(s)
Have cost effective gaming solutions
Get support and maintenance 24/7
Are you looking for iPhone game development company that delivers high-quality graphics that is interesting, addictive and free-from-errors? Get in touch with us to enjoy a competitive edge in the market with our addictive iPhone Game apps. IADI (iPhone App Development India) can be your partner in success.