Days Management
A one-stop destination for all new age mobile applications development
Instant Quote
Tell us about your requirement
and we will get back to you soon.
iPhone Calendar Application Development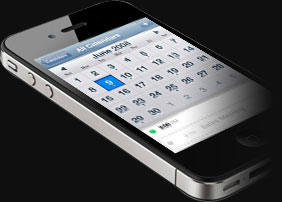 The Apple iPhone is the smartphone that has functionalities that exceeds your expectations. Among its other apps, it enables the option of having Custom iPhone Calendar Application that provides the user with additional support than the regular calendar app.
Our iPhone development professionals excel in iPhone Calendar application programming and using their technical skills, they help in Google Calendar Integration to iPhone. We at iPhone Application Development India (IADI) have with us, teams of iPhone Calendar App Developer to serve your needs and maximize the output of your iPhone calendar application.
iPhone Calendar app development has certain features that help you manage your busy schedule with ease and make your personal life smooth and organized. The functionalities and features of the custom calendar application developed by us:
Make changes and maintain data
Ease in scheduling via in-built customized organizer
Users can note as many updates in the calendar app as they require
Add or remove calendar after logging in to the Google calendars
Integrate the features of other apps into your iPhone calendar app
Get reminders and alerts regarding important meetings or events
Share it with your friends and keep them updated with your daily routine
Specialized calendar icons
Making the availability of popular Google calendars on iPhone
Using the latest iPhone SDK our programmer devises unique and innovative calendar apps under iPhone calendar application development and incorporates all the details requested by our clients in the calendar such as:
Custom events/meetings reminder facilities
Bill reminders
In-built calendar alarm facility
Calendar directory to store contacts
Extract calendar events from your computer
Synchronize your calendar with other calendar/Google calendar app
Custom calendar with built in birthdays and anniversaries
Avail the option of multiple languages in your calendar