Socialize with iPhone
A one-stop destination for all new age mobile applications development
iPhone Facebook Application Development
The Apple iPhone being a trendy smartphone is used by people of all generations. It is the latest tool to interact with others through various applications. One of such app used widely by the iPhone users is the – iPhone Facebook Application. Opt for iPhone Facebook App Development in order to generate maximum sales and growth for your products.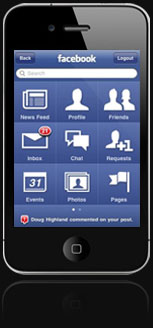 Keeping in mind all the features and functionalities of the Facebook Social Networking Site, our expert teams of iPhone Facebook Application Developer endeavor to meet your requirements and deliver the best solution. With a plethora of apps already there on Facebook, we aim to develop an app that stands out amongst them. Get your customized iPhone Facebook Application development from IADI (iPhone Application Development India).
We have highly skilled professional Facebook application developer is expert in programming various app that suit your needs and at the same time adheres to the industry standards.  Give you a quality output.
Our professionals strive to meet our clients' needs through iPhone Facebook Application Programming for fascinating Facebook App Development measures that include:
Faster log in
Visually appealing designs
User friendly interface
High listing within application directories
Advanced and Well-managed Applications
Easy access to the users for an exponential growth of the app
User friendly interface for faster photo/video upload
Features that can be run on – iTouch and various models of the iPhone
Combined with Facebook, the iPhone serves as a superior platform for marketing and promoting your corporate identity. Use our solutions to make your product's presence felt online to a huge user base of – 500 million active users and find your potential customers in them.
We are adept in developing the following types of iPhone Facebook App:
Facebook Game App
Facebook Entertainment App
Facebook Utility App
Facebook Sports App
Facebook Business and Finance App
Facebook Photo/Video App