Fun Section on Mobiles... Custom and Interactive iPhone Game Development
iPhone Entertainment and Game Apps Development
Hire iphone game developers to experience iphone mobile games development
Mobile Games Development
With the widespread use of mobile phones and the evolution of multiple technologies in mobiles and gaming industry led to emergence of a number of mobile based games.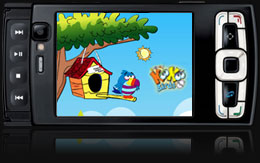 Skilled in mobile games development our mobile game developer infuses the latest technology in programming games for different mobile platforms. Hire Mobile Game Developer who put all their passion into developing mind blowing games that keeps you engaged for hours on.
Keeping your needs in the forefront, we design and develop highly interactive and exciting games. We add various features and functionalities to our games and provide you with brilliant quality games:
High quality 2D/3D graphics and sound technology
Our game interface is at par with the best to create addictive games
Promote your brand or advertise your products via custom games
It is the most interactive medium to reach out to maximum users of all age groups
We develop games keeping all the current trends in mind
The games developed under Mobile Game Development are thoroughly tested for anomalies to provide the users with superior quality gaming solutions. Provide different customized mobile games using the finest quality graphics, sound and other gaming components.
We are open to explore all the genres of mobile game development since our mobile developer has expertise in developing different genres of games listed as under:
Single / multi player games
Arcade games
Action/Adventure games
Shooter games
Role-Playing games
Strategy games
Simulation games
Puzzle games
Educational games
Instant Quote
Tell us about your requirement
and we will get back to you soon.