iPad Tablet: Apple's magnum opus - Surprise yourself iPhone Application Development India
Shaping up your expectations
A one-stop destination for all new age mobile applications development
iPad eBooks/iBooks Publication App. Development
The 9.7 inch screen of the Apple iPad with LED and LCD back lit display  allures the user to read books virtually on the iPad device whenever and wherever he wants. The iPad's crystal display and reflective technology reduces stress on eyes and lets you have a pleasurable reading experience. This gives this device an edge over others in the market especially in the field of iPad eBook Application Development.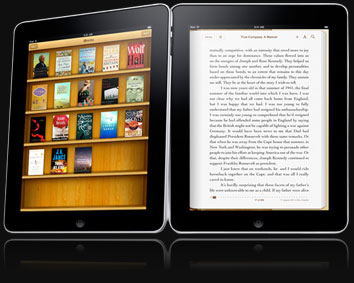 Benefits of the iPad eBooks Apps Development:
Simple
Cost-effective
Interactive
Easy to read
Portable and Paperless solution
Easy to order online and get instant delivery
large user base
Can be developed as a separate application altogether
The iPad also offers many features that were unseen in the earlier version of the eBooks in the market such as:
Basic Features
Cover page
Table of Content
User-friendly Navigation
Jump to page no.
Zoom in/out
Bookmaking
Search
Advanced Features
Font settings
Portrait/Landscape orientation
Turn pages with swipe or tap or pinch
Adjust the brightness
High resolution images
Place any amount of content in the book
Advanced search options
Double page on the screen to give real book type look
Using all the above cited features, we help you publish your eBooks on the iPad through our iPad eBook Publishing Application Development service.
Also, the technological advancement through the iPad device and eBook publishing has resulted in creation of iBook apps that take the entire virtual book reading to new heights.
iPad iBook Publishing App Development uses the features of the iPad for the following functions:
Search for, select and download the required books on your iPad
Change font settings
Enhance content visualization through special features mentioned above
Virtual bookshelf
IADI(iPhone Application Development India) has talented and dedicated iPad eBook Application Developer who develop interesting and enthralling eBooks and iBooks with a rich look and feel so that clients can reap maximum benefits from eBooks developed for the iPad platform. With minimum glitches, they create eBooks that treble the pleasure of reading on the iPad devices and increase readership of your eBook.
We provide iPad eBook publication services across the globe. From our offshore development center in India, select from high class designs and layouts for your own eBook at an unbelievable price. Our iPad Book Publishing Application Development team members are committed to your cause in producing top quality customized iPad eBook.
IADI helps you to realize your dream of publishing your book in the eBook format in a simplified way. Contact us to know more regarding our service.
Instant Quote
Tell us about your requirement
and we will get back to you soon.