Another Enhancement Effort for iPhone
Instant Quote
Tell us about your requirement
and we will get back to you soon.
Apple iPhone iOS 4.3 Update
Apple recently released iOS 4.3.1 to its developers. Users can update their operating systems to iOS 4.3.1 via the iTunes free of charge. This latest version of the operating system has been made available for:
iPhone 4
iPhone 3GS
iPod touch 3G
iPod touch 4G
iPad
iPad 2
Apple TV  (Second generation)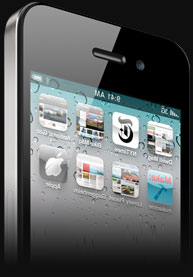 iOS SDK 4.3.1 opens up new zones of  iPhone app development as well as iPad app development for the developers. It offers features like AirPlay, iAd Full Screen Banners and Multitouch gestures making it an interesting platform to work upon.
Features included in iPhone iOS 4.3.1
AirPlay
One of the most interesting inclusions in iOS 4.3.1 is the third-party access to AirPlay .
The all new iOS 4.3.1 provides users with the option to send video to Apple TV or HD TV. Users can stream videos to a widescreen TV using Media Player APIs that support AirPlay video.
Earlier the AirPlay support was available to only a few built-in apps (e.g. Safari and YouTube).The iPhone developers will now be able to connect AirPlay with the third party apps.
Mobile hotspot
Personal Hotspot feature lets the user share the phone's 3G connection with other Wi-Fi enabled devices when the carriers opt to enable it. This is possible with the iOS 4.3.1.
iAd Full Screen Banners
Taking advantage of the large screen of the iPad to grab the attention of the users, iOS 4.3.1 allows iAd full screen banners that provide an appealing and interactive iAd experience.
This easy to implement format of iAds is sold and served by Apple to your app allowing you to collect 60% of the advertising revenue generated.
HTTP Live Streaming Statistics
Using these feature users can track the popularity of their streams (viewer engagement) and measure the performance.
They can further utilize these statistics to fine tune their authoring process and deliver most favorable content.
Multi-Touch Gestures for iPad
The iPhone iOS 4.3.1 makes available new Multi-Touch gestures for iPad.
It facilitates Multitouch gestures that significantly improves the interface on the iPad devices
Reduces the concern regarding hardware wear and tear
Hardware orientation
iOS 4.3.1 add an option of hardware orientation lock in the iPhone
IOS 4.3.1 facilitates iPhone users with a settings toggle to let the user choose which function they want the switch to perform (mute or lock)
Speed
iOS 4.3.1 increases the speed of the Safari web browser.