Instant Quote
Tell us about your requirement
and we will get back to you soon.
Apple iPhone 4
Apple finally launches iPhone 4 on June 5, 2010 in the US after immense hype
Apple Inc.'s relentless effort to metamorphose the sleek and curvilinear iPhone 3Gs into a more pragmatic and sophisticated Smartphone seems to have finally found ground on June 5, 2010 in the US after months of speculation, hype and anticipation from Apple's loyal fan base and the Media. Over hundred 'Apple – maniacs' stacked up outside stores in Europe and USA in their bid to get hold of Apple's latest release, iPhone 4. Can Apple meet the expectations of millions and stay ahead of its competitors Nokia, who are already feeling the heat after their Smartphone plans wobbled into a no–hope zone, and Blackberry makers, who have started steeping into dormancy according to latest reports? Let's find out.
iPhone 4 Features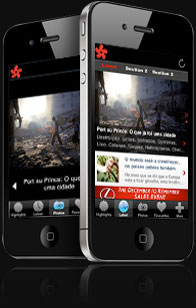 The Exterior
Something that distinctly differentiates iPhone 4 from iPhone 3Gs is its body that Steve Jobs earlier likened to "a beautiful, old Leica camera". Apple, it seems, may have rethought the body structure sans the body weight which still remains 136 grams. Visible changes from the previous generation iPhone are its width, which has been kept at 0.37 inches as compared to 3Gs's 0.48 inches, its 'thickened Credit card' like structure and a detailed casing instead of a curvilinear body shape, circular volume clickers that display clear + and – signs in place of rockers.
The all new iPhone 4 can be segregated into three parts namely; the face, the back and the four sides draped with stainless steel. The face, which is made of strong glass that is apparently 30 times stronger than plastic, has a display, a front–facing camera and a slot for the earpiece ingrained above the display, and the customary home button housed below the display. The backside of the phone, made of strong glass similar to the one on the front, flaunts a five megapixel camera accompanied by an LED flash.
The left-hand side houses the new mute switch and volume buttons, the latter below the former, whereas the right-hand side is home to a Micro SIM slot. On the top one can find the power / sleep button, headphone jack, and new noise-canceling microphone, whereas, on the bottom there's the speaker, the microphone and the 30-pin dock connector port.
On the whole, Apple has given iPhone 4 an altogether new look that is compact, looks sophisticated and exudes class.
The Interior
iPhone 4 also speaks volumes about the strategy Apple has implemented for the phone's interior in order to make it crispier than 3Gs. This is evident from the processor and RAM configurations that have been tweaked in order to give this new launch an edge over others. The battery slot too has been enlarged to give way to a larger lithium–ion battery that will boost up battery performance. This generation also helps the user garner better reception from the antennae due to their locations on the phone.
Retina Display
Apple Inc. CEO Steve Jobs during his keynote made a pertinent point about the technology used behind the ace up iPhone 4's sleeve, Retina Display–a name coined by Apple for its LED backlit 960 x 640 IPS 3.5 inch screen because of its high resolution and pixel density. He said that the resolution of the phone, which flaunts a display that can manage an awesome 326ppi (pixel per inch) pixel density along with a contrast ratio of 800:1, essentially tops what is perceivable by the human eye.
This is what imparts superiority to iPhone 4. On scouring through the details of this feature, one cannot but appreciate its deep and rich colours, and clarity in text rendering. Even microscopic text on being zoomed in is perfectly readable, which, fortunately for Apple, may not be the case with other phones, where no sooner you zoom in, the clarity disappears leaving behind a geometry of pixels.
Owing to its reliance on IPS and LED technology for its screens, iPhone 4's screen performance and visibility in sunlight does not get affected.
The Cameras
The five megapixel camera accompanied with LED flash can serve as a perfect substitute for a stand–alone camera. The built–in LED flash makes its presence felt when the brightness level dips. Through the 5x zoom facility that produces digital zoom like results, one can bring action closer without worrying about a diminished picture quality.
Video recording in high definition with illumination sensors providing support in low–light conditions is also something to look out for. However, what places the phone a notch above others are extra features like video editing, movie making using iMovie applications, video sharing and video zooming facilities.
Apple Inc. CEO Steve Jobs in his keynote speech underscored the importance of the innovative technology behind the camera that focuses not just on elevating the camera's megapixels but also banks on increasing the photon count; let more light in is the thought behind the idea. The technology worked out well for iPhone 4.   
iPhone 4 Prime Movers
Multitasking
This feature is a chip off the old block, iPhone 3Gs, but with a few additions. However, something that wraps iPhone 4 in a layer of praise and keeps it ahead of the pack is the fact that it does not compromise on application and battery performance, speed and ease while the user is switching between applications. A double–click on the Home button brings out recently used applications and a tap on one takes the user back to where he/she left.
Other benefits of multitasking on this phone are that it allows third party audio applications and GPS applications to keep running in the background, and keeps VoIP connections on hold while the user switches to other applications. GPS applications can also provide vocal directions to the user even with an audio stream running in the background; the music volume lowers automatically while the GPS application plays vocal directions.
Facetime
Video calling isn't exactly Apple's invention, for it is a commonplace in many countries in Europe. But still one can't be blamed for crediting Apple with bringing science fiction to life through Facetime purely because iPhone 4 makes video calling a possibility not just for a select few but for the hoi polloi.
Facetime has also earned critical acclaim because of its user friendly nature and seamless process. All a person needs to do is tap the Facetime button on the phone screen while calling or while talking. It is indeed an 'Apple of the eye' for Apple, its fans, Gadget bazaars all over the world and most importantly, the common man.