A Prolific Update for Quality Development
Apple iPhone SDK 3.0 Application Development
Constant augmentation can be observed in the usage of new iPhone OS in the Smart phone OS market. According to reliable sources of the Mobile industry, among other popular smart phone OS like Android and Java, iPhone OS is standing alone on fourth position in the smart phone OS market. This rapid admiration of established intellectuals & iPhone developers of the mobile industry as well as common iPhone users is achieved due to introduction of new Apple iPhone SDK 3.0 for the development of iPhone applications.
Over 1000 APIs (Application Programming Interfaces) & 100 New Features added in the new version of Apple iPhone SDK 3.0, which is no doubt improve the quality of the applications for the iPhone and very natural end user or common iPhone user is the ultimate beneficiary.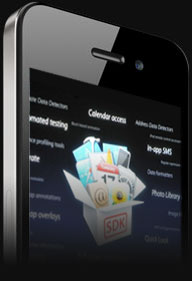 IADI is the company for the innovative application development company utilizing appropriately the all amazing features of the new iPhone SDK 3.0 to satisfy its clienteles all over the sphere. As company is active with pool of experienced & young energetic iPhone developers, who are constantly attentive to the new developments of the smart phone industry to understand every technical know - how for the quality iPhone application development. For instance, to enhance the functionality of iPhone and other communicative devices (ipods) utilizing new APIs of the iPhone SDK 3.0 for the attachment of hardware accessories like blood pressure monitor, keyboard in applications by making connectivity through dock connector or over Bluetooth. There are many other functions can be easily performed in iPhone application development with the help of new iPhone SDK 3.0 guidelines according to company Website of Apple Inc for developers, developer.apple.com/iPhone/program/sdk/ such as:
In App Purchase
Apple Push Notification service
Accessories
Peer to Peer Connectivity
Maps
iPod Library Access
More important is that, how appropriately the developers use them for creating quality iPhone Applications and iPhone Application Development India is specially organized for high quality iPhone Application development. Have a look to few common, but useful features of new iPhone SDK 3.0.
Cut, Copy & Paste
MMS Landscape view for Mail
Text & Notes
Stereo Bluetooth
Syncing Notes to the Mac and PC
Shake to shuffle
Parental controls for TV shows
Movies and apps from the App Store
Automatic login at WiFi hot spots