iPhone SDK 4.3 Application Development
With the launch of iPhone iOS 4.3, Apple also released SDK 4.3 compatible with it.  It brings new APIs along with a whole lot of opportunities for the developer to design innovative applications for devices using the new features. These features will allow iPhone SDK programmers to further enhance iPhone application development.
Our team of skilled iPhone developer and programmer are updated with the latest technologies to supply our clients with optimized software solutions. Following the SDK 4.3 guidelines and using the iOS 4.3, they seek excellence in programming dynamic and interactive applications.
The various features of the iOS 4.3 used to develop various apps are: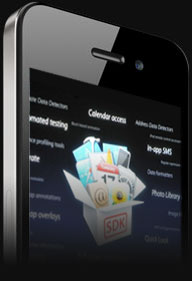 AirPlay
Develop third party apps that can be used to connect to the AirPlay and streamed to the Apple TV
iAd Full Screen Banners
Develop iAd banners making full use of the large screen of the iPad
Generate more revenues using the apps
HTTP Live Streaming Statistics
Develop apps to track the popularity of your streams and measure the performance
Various live video streaming apps can be developed
Multi-Touch Gestures for iPad
Develop various apps that can make use of the four to five finger multi touch feature.
Makes the app more interactive and user friendly
Our passionate iPhone developers are always keen to develop and deliver the best possible app to our clients using all the above mentioned features of the latest iPhone SDK.
Get a wide variety of applications developed by us with the assistance of the SDK 4.3 such as:
Game App
Business/Finance App
Utilities App
Entertainment App
News App
Social Networking App
Travel App
Weather App