A Prolific Update for Quality Development
APIs in the iPhone SDK 4.0
Apple in inspired by innovation. It is addicted to bringing freshness to all its products every time it launches one. It conquers most of the objections from its iPhone user base and has a lot of graphical and UI improvisations that makes navigation through the operating system lot more easy, better and efficient.

The new iPhone SDK 4.0 provides more than 1500 APIs for your iPhone and iPod touch apps. API is basically a set of functions that provide all the building blocks for developing programs with ease and customize your apps. They work to ensure to make sure you get the required functionality and information.
Calendar Access
Now you can customize your calendar applications and furthermore, create and edit events directly in your calendar application with the use of an Event Kit. And you can do much more than this. You may also use this feature to build recurring events that show up more than once in your schedule. You can also create start times and end times for various events and may as well assign them to any existing calendar.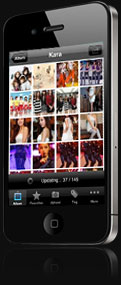 In-App SMS
This would aid in composing SMS messages from within the application and send them directly to the recipients. This is very much similar to the Mail compose sheet that was present in the earlier version, iPhone SDK 3.0.
Photo Library Access
This API would allow an easy and direct access to all your photos and videos on your iPhone device using the Media Library APIs.
Video playback & Capture
This API in the AV Foundation framework is for applications that need to go beyond the music and movie playback features and for those users who need precisely more control over the creation and playing of audio and video contents. It allows you to have absolute control over your video playback and video capture actions, like never before.
Map Kit Improvements
Navigation would be a new experience with this API. Map based applications would now be capable of identifying various regions over the map through overlays. You could also draw routes along with notes pasted to customize directions and other functionalities.
Quick Look
As the name suggests, this new API allows you to preview your documents such as email attachments. This offers a lot of convenience as it cuts down the need of reaching out to the document and opening to check it out.