Perfect Professional Renovation
A one-stop destination for all new age mobile applications development
Update Apple iPhone OS Apps to iPhone OS 3.0
Now it's time to renovate the old iPhone applications with new useful & exciting features of new iPhone OS 3.0 and to make it all possible professionally & perfectly for you. iPhone Application Development India offers complete services to update your existing iPhone applications with new iPhone OS 3.0 features. Apple Inc has launched various OS versions after the official launch of iPhone in year 2008 to enhance the user experience by providing fresh features in each OS version. The most modern OS version is iPhone OS 3.0 and new features for the development of iPhone applications are:
Cut, Copy & Paste, which allows the application user to perform quick & easy function of cut, copy & paste the text from application to application and image copying from web as well.

With the feature of Landscape Keyboard, now user can rotate the key board for more space and make it larger to use comfortably.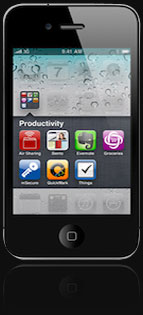 MMS feature including photos, audio, and contact info plus user can tap to snap pictures within the message.
Spotlight Search is the enhanced search feature to search more from one place such as user can use Spotlight feature to search everything in the iPod, including contacts, email, calendars, notes, etc.
With the advance feature of voice memo user can capture memo, meeting in the audio form. These voice memos can work with utilizing inbuilt iPhone microphone.
In iPhone OS 3.0 Calendar is Improved by using Microsoft Exchange ActiveSync, user can create meetings as well as can easily subscribe calendar with support of CalDAV.  User can easily buy Movies, TV Shows and Audiobooks from iTunes Store on his/her iPhone.
Enhanced Stocks Application allows the user to see more comfortable landscape view of charts and other stock data.
An error-free compatibility of existing iPhone applications with new iPhone OS 3.0 is essential to take fuller advantage of all new features. iPhone Application Development India can easily get you all aforesaid advance features of iPhone OS 3.0 in your old iPhone applications with complete sense of smart phone technical expertise. Our talented iPhone developers have kept the track of previous updated versions of iPhone OS and other improvements related to iPhone.